Στη Κίνα σκοτώνουν τους καλλιτέχνες.Συγκλονιστικές φωτογραφίες... απο τη Κίνα των Ολυμπιακών Αγώνων
Στην Αθήνα, στη γκαλερί του Νίκου Σταθούλη DOWN TOWN ART GALLERY ,παρουσιάστηκε η δουλειά 54 καλλιτεχνών που βασανίστηκαν στις Κινέζικες φυλακές,τον Φεβρουάριο του 2007,όπου την επισκέφθηκαν πάνω απο 1500 άτομα.



129 Deaths Confirmed Since January 2007 (Graphic Photos) - Brief Summaries of Death Cases Present Grim Evidence of Stepped Up Persecution of Falun Gong as Chinese Communists "Prepare" for the Olympics
(Clearwisdom.net)
Follow the link below to a list of the 129 Falun Gong practitioners confirmed to have died between January 1, 2007 and March 20, 2008 as a direct result of persecution they suffered at the hands of Chinese Communist Party (CCP) authorities. Each of the 129 cases is briefly outlined.
As further evidence of the intensified persecution Falun Gong faces in the run-up to the Beijing Olympics, 1,878 practitioners were reported arrested in the first ten weeks of 2008 alone. Read More on FalunInfo.net

Please note: While the total confirmed number of deaths stands in the low 3,000's, the actual number is thought to be many, many times higher. The CCP keeps tight-fisted control of such information, and our sources in China risk imprisonment and torture for compiling and submitting these death cases to the Minghui/Clearwisdom website.
Note: In each case listed, the first number signifies its count in the death toll since January 2007. The second number (in parentheses) is a reference to the list of all confirmed deaths since the persecution began in 1999. (English version of this list is maintained here on Clearwisdom.net) For example, once you click on the link below, you will see that the first case listed is the 129th since January 2007, and the 3149th case confirmed since the persecution began in 1999
Click here to see the List of Deaths since January 2007 (Graphic Photos)
Posting date: 3/25/2008
Original article date: 3/25/2008
Category: Eyewitness Accounts
Witness to Torture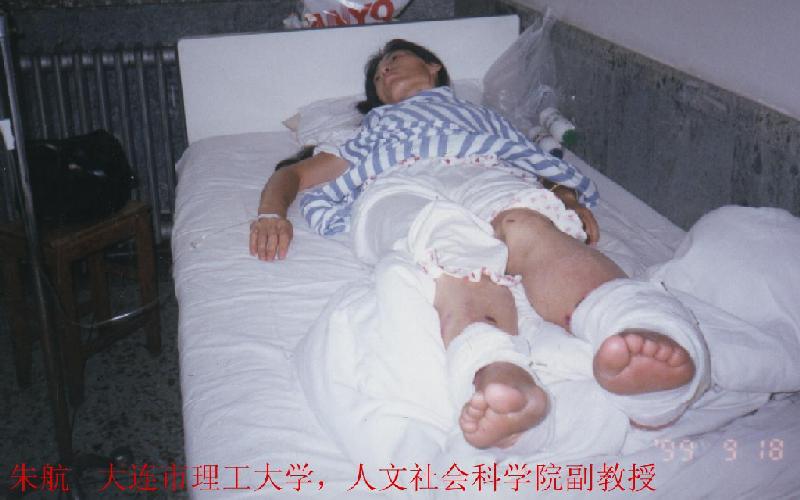 In 1999, Falun Gong practitioner professor Zhu Han was abducted to Yaojia Detention Center of Dalian city, where she was brutally tortured; resulting in bruises all over her body as well as mental disorder.
Witness to Torture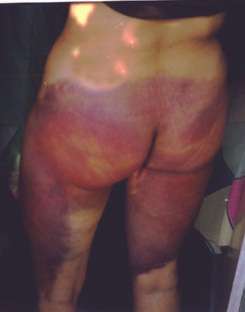 This photo was taken five days after being abused by the Tiananmen Police. The practitioner went to Tiananmen Square on October 17, 2000 to appeal for Falun Gong. She was arrested and tortured.
Witness to Torture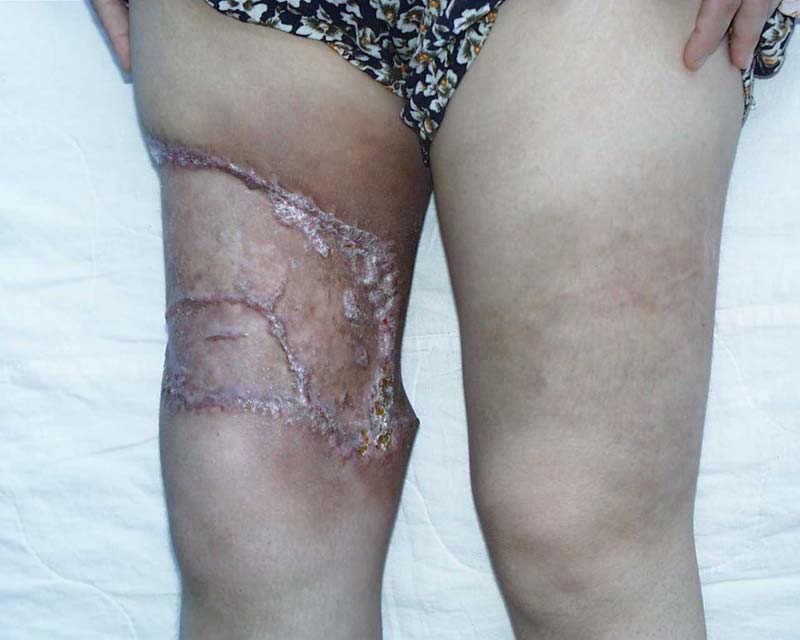 On the morning of June 4, 2001, thirteen Falun Dafa practitioners were forcefully abducted from Majia Village, Sunjiaji Township, Shouguang City. Two practitioners were brutally killed while in police custody and several other practitioners were severely wounded. The photo shows scars on practitioner Liu Aiqin's leg due police brutality.
Witness to Torture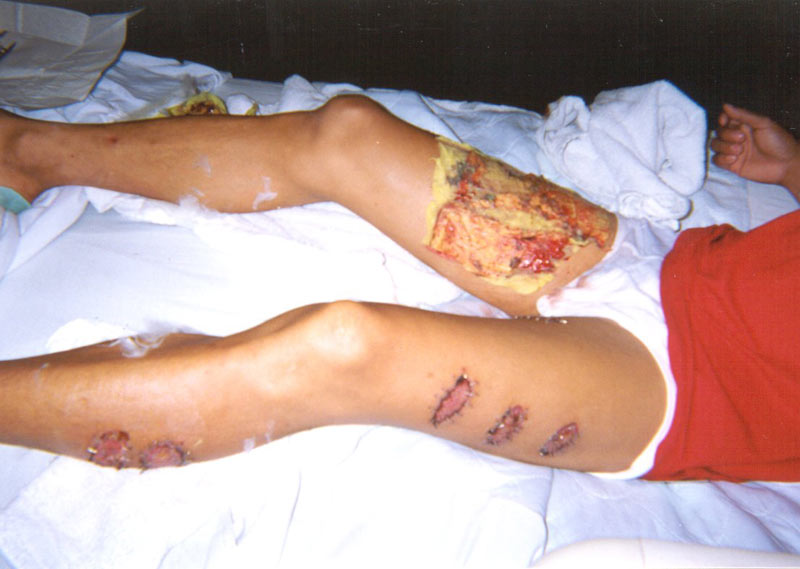 Falun Gong practitioner Tan Yongjie was a factory worker in Baoan, Guangdong Province. On June 2nd, three labor camp guards beat him, tied him to a pillar, and burned him 13 times with a red hot iron rod to force him to give up his belief.
Witness to Torture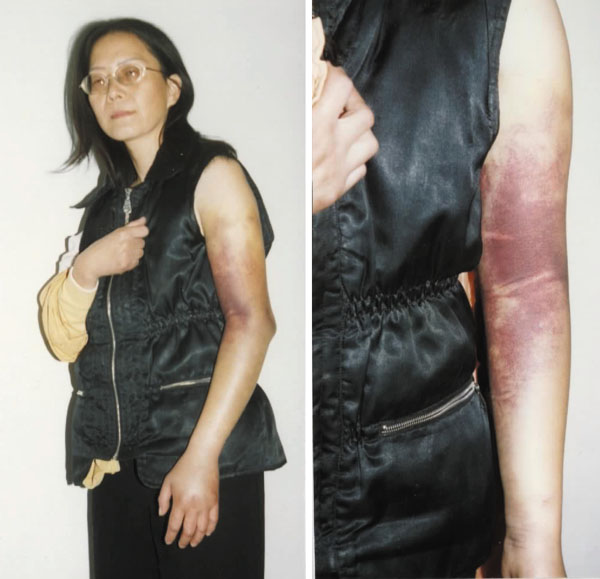 Falun Gong practitioner Ms. Xiang Jinying, from Haiyan of Zhejiang Province, went to Beijing to appeal in October 1999. She was arrested and tortured and suffered a fracture in her upper arm due to prolonged handcuffing behind the back.
Witness to Torture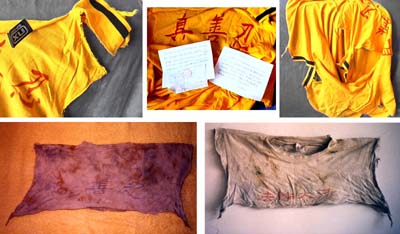 Torn and Bloodstained T-shirts serve as evidence of brutality against Falun Gong practitioners.
Witness to Torture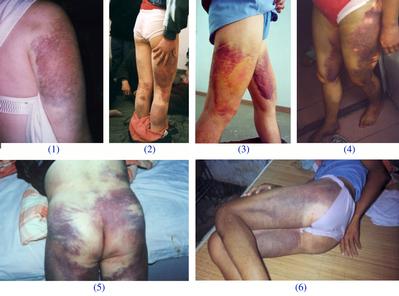 Photographs of various injuries to the bodies of Falun Gong practitioners caused by torture.
Witness to Torture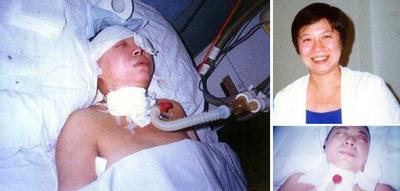 Falun Gong practitioner Ms. Zhao Xin before and after police beating that left her with three fractured vertebrae. She later died.
Witness to Torture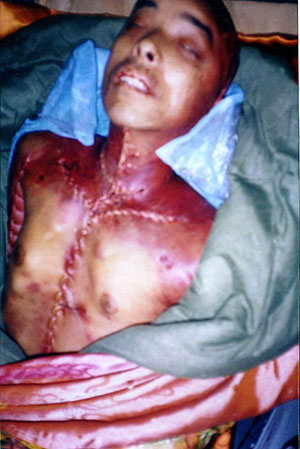 Heilongjiang Practitioner Wang Bin was tortured to death on Septempber 24, 2000 by Daqing Men's Labor Campa. Hosptial examination showed: a lymph artery was broken; over a dozen of his bones, including his collar bone, sternum and ribs were broken; one of Wang's testicles was also split; the backs of Wang's hands were found to have been repeatedly burned; Wang's nostrils were burned and injured by the lit cigarettes that were inserted into them; and many parts of Wang's body were black and dark purple..
Witness to Torture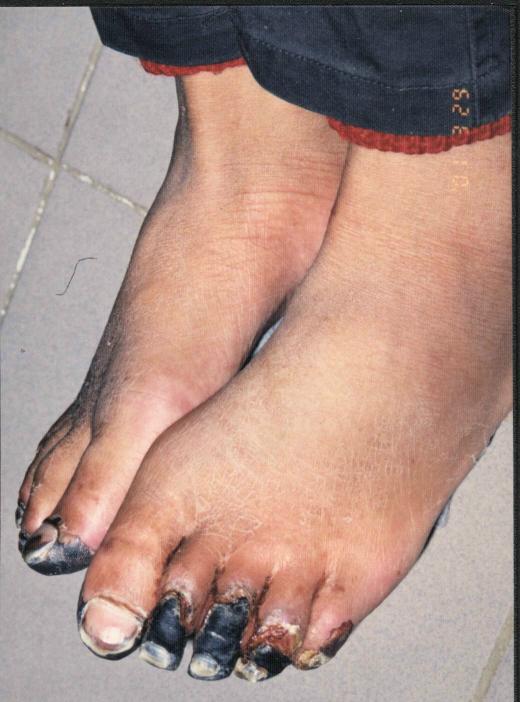 This Falun Dafa practitioner was arrested to Xuanweu District detention Center where he suffered torture and inhuman treatment. All his toes turned black from frostbite and had to be amputated.
Witness to Torture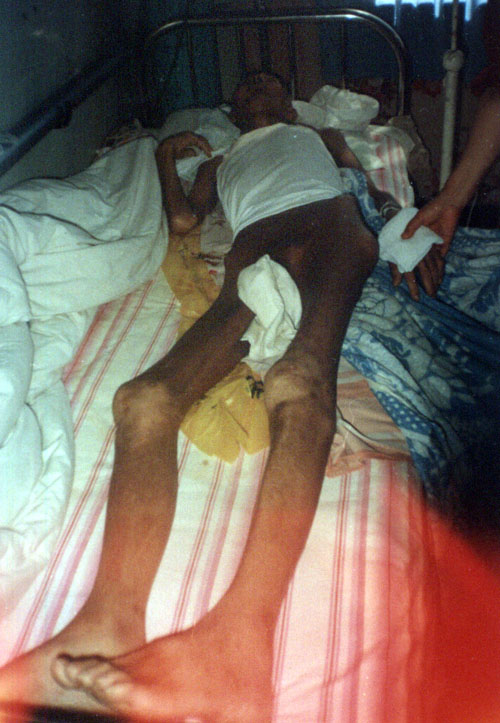 Mr. Zhou Jingsen, 69, was a Falun Dafa practitioner from Harbin City, Heilongjiang Province. He was tortured to death by Changlizi labor camp, after he was reduced to skin and bones.
Witness to Torture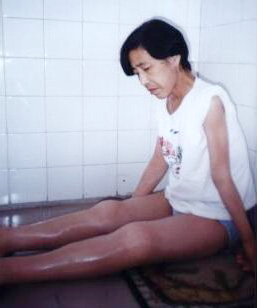 Falun Dafa practitioner Ms. Cui Xinxiang was sent to the Zhangjiakou City Brainwashing Center, where attendants added unknown drugs to her food, which caused her to have physiological abnormalities. Swollen from head to foot, she was unable to care for herself. She was tortured nearly to death.
Police Brutality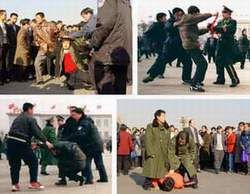 Four photos show policemen brutally beating Falun Gong practitioners who appealed for Falun Gong at Tiananmen Square.
Police Brutality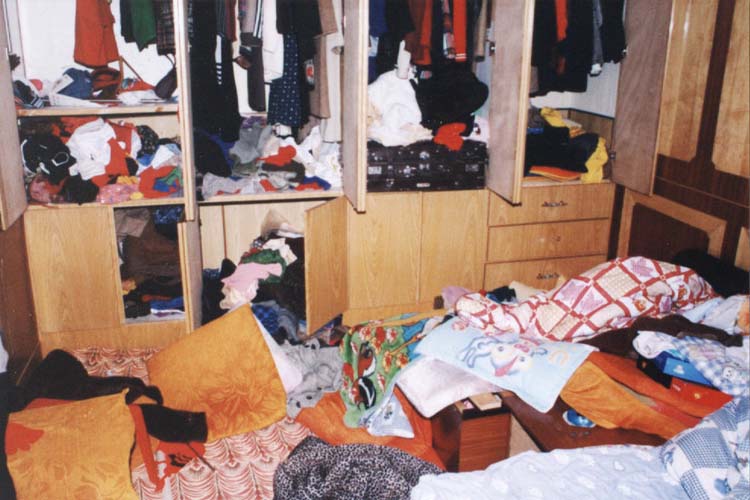 Falun Gong practitioner Zhou Puxiu's home is searched and ransacked by Jiamusi police.
Police Brutality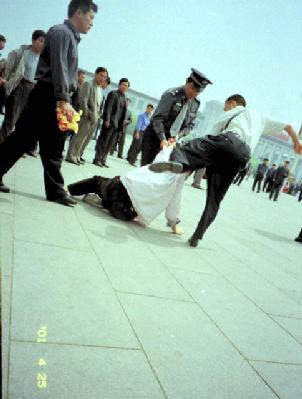 Plain-cloth police brutally arrest Falun Gong practitioners who went to appeal at Tiananmen Square.