His voice shaking - either with fear or emotion - the lama explained why he felt greater pressure than at any time since he started to head his monastery.
"I am worried. China is so big. Tibetans are so few. We cannot possibly win. No good can come of this for Tibetans."
The lama has good reason to be concerned. The fragile harmony between Tibetan and Han Chinese communities is being ripped apart all around him. His small monastery - nestling high in the mountains of northern Sichuan - is in the region that has experienced the worst violence outside of Lhasa.
According to overseas Tibetan groups, more than a dozen protesters have been killed in Aba county. It is difficult to verify, but the tension is palpable.
As the unrest has spread, so has the security cordon. The fragile-looking lama now finds his remote monastery - hundreds of miles from the initial protests - on the edge.
"Three officials came up from the town to see me today. They told me we must not protest like the other monasteries or we would be closed off," he said.
In the past two days several bigger monasteries in this area (which cannot be named to protect the sources) have been locked down. Roads in almost every direction are punctuated by police checkpoints. Government officials, park rangers, bank managers and other administrators have been ordered to maintain a 24-hour operation.
"We have to work overtime tonight because the Dalai Lama is trying to split our country," one Tibetan park ranger grumbled to a colleague.
Until last week this area - at more than 3,000 metres (10,000ft) altitude - was a stopping point on the tourist trail. The nearby highway 213 passes through some of the most stunning scenery in China, past many of Tibetan Buddhism's most famous monasteries.
Today, however, the roads are closed. Drivers have been warned to stay away and all the talk is of the baoluan - unrest - gripping neighbouring areas.
Route 213 has become a corridor of unrest. Locals said there were demonstrations yesterday in Ruoergai and Langmusi, where monks held up Tibetan flags and shouted support for the Dalai Lama. Further north police have broken up rallies in Luqu, Xiahe and Hezou in recent days.
What is going on inside the widening security zone is becoming harder to find out as the police add roadblocks, expel foreigners, warn locals to stay away and bring in truckloads of armed riot police.
At the secluded monastery it is at first hard to understand why the Tibetan community would want to rebel. Farmers say their incomes have risen. Many are building big houses. Last year the government built a new road. But there is frustration at the heavy-handed political controls they must live under.
Monks must undergo patriotic education campaigns. There are restrictions on the age at which monasteries can enrol apprentices. The Chinese flag must fly from the monastery roof and Communist posters have to be hung on the walls. "Have the same heart as the party. Follow the same direction as socialism. Be grateful and dedicate yourself to the motherland," reads one near the entrance.
Toughest of all for the monks to bear is the order to renounce the Dalai Lama, their spiritual leader.
"They tell me I must renounce the Dalai Lama. When I go to public meetings that is what I have to say. But in my heart I don't believe the words from my mouth," said the lama.
"We do not have freedom of worship. We don't have enough human rights. Deep down I support those who demonstrate peacefully, but violence is very bad. It doesn't help.
China admits shooting Tibet protester
China today admitted for the first time that anti-government demonstrations had spread to other regions and that soldiers had shot rioters "in self-defence".
The state-run Xinhua news agency reported recent unrest in Sichuan and Gansu provinces, blaming supporters of the Dalai Lama.
It said Chinese forces had shot and wounded four rioters "in self defence" during unrest in Sichuan last weekend.
China has come under international pressure to act with restraint in Tibet.
The US secretary of state, Condoleezza Rice, was reported to have "strongly urged" her Chinese counterpart, Yang Jiechi, to tread carefully in the region during a 20-minute phone call.
Rice also pushed Beijing to open talks with the Dalai Lama, Tibet's exiled spiritual leader.
Yesterday, Gordon Brown said the Chinese premier, Wen Jiabao, had told him he was willing to meet the Dalai Lama if the Tibetan leader ruled out independence and renounced violence - conditions which have already been met.
The Dalai Lama today offered to travel to Beijing for talks on the crisis.
Speaking in Dharamsala, northern India, he was quoted by Reuters as saying: "I [am] always ready to meet our Chinese leaders, particularly Hu Jintao."
Official media also announced arrests following the riots in Lhasa.
Thousands of armed police have flooded into the provinces, and the neighbouring Qinghai province, amid sporadic demonstrations.
Witnesses have also reported what appeared to be large military convoys, up to 2km long, driving towards Tibet in the last few days.
One said that the men in the convoys were armed with automatic machine guns and had riot shields.
Markings and registration plates were removed, but the vehicles appeared to be those normally used by the People's Liberation Army rather than paramilitary police.
The increasing concentration of security forces came as officials in Lhasa began to parade those held in custody over the disturbances.
The Tibet Daily reported that 24 people had been arrested for endangering state security and other "grave crimes" connected with the riots.
Officials also issued a wanted list of 12 people caught on security camera footage during the unrest.
They said 170 people had surrendered to police following an announcement that those who did so by Monday night would be treated leniently, while others would face harsh punishment.
Many have been shown on state-controlled Tibet Television, with two men confessing to taking part.
One said he had done things he regretted because he "believed other people's rumours", while another said a crowd threatened to burn his house down if he did not join them.
The television station said detainees were remorseful and would help police find other demonstrators.
In one sequence, paramilitary police marched suspects in handcuffs, forcing one man's head to a table as he signed and fingerprinted an unidentified document at the prosecutors' office.
Rights groups have voiced concern that the authorities are targeting peaceful protesters as well as rioters, warning that those charged would not receive a fair trial.
"There is every reason to fear for the safety of those recently detained," Brad Adams, the Asia director at Human Rights Watch, said.
Protests against the government started peacefully in Lhasa a week and a half ago, but erupted into riots and attacks on Han Chinese and Hui Muslims last Friday.
Outside Tibet, demonstrations have included attacks on several government buildings, but there were no independent reports of attacks on individuals or private property.
The government claims 16 died in the unrest in Lhasa - including three protestors who allegedly jumped from buildings while fleeing police - while Tibetan exile groups say the tally is closer to 100 when other provinces are included, mostly because of the crackdown.
Xinhua reported protestors in Gansu and Sichuan burning down shops and attacking schools and hospitals as well as police stations.
Sichuan authorities claimed they had also beaten civilians, police and officials in Aba, known in Tibetan as Ngawa.
There was no mention of allegations from Tibetan exile groups that paramilitaries in Aba had fired on protesters, killing several.
Overseas pro-Tibet groups have released the names of alleged victims and photographs of several corpses, but it has been impossible to confirm their authenticity because reporters are being prevented from travelling to the region despite being legally entitled to do so.
Zhang Yusheng, a spokesman for the government in Gansu, said: "These sabotages were organised and premeditated, and their roots were the Dalai clique, whose ulterior motive was to create unrest, disturb the Beijing Olympics, destroy the peace and stability and separate the country."
There were claims today that several thousand monks and laypeople were protesting in Zeku county, Huangnan, Qinghai.
In a substantial diminution of rhetoric they were said to be calling not for freedom but for "dialogue with the Sacred Dalai Lama, [and] the high autonomous administration of Tibet".
However, officers at Zeku county police station told the Guardian they had nothing to say, while a hotel in the county said it was not aware of disturbances.
The Chinese foreign ministry, meanwhile, said it was "seriously concerned" about a planned meeting between Brown and the Dalai Lama, telling the prime minister not to offer him support.
The Pope also called for dialogue between the two sides, warning: "Violence does not solve problems, but only aggravates them."
However, Chinese authorities have stepped up attacks on the Dalai Lama, with Tibet's Communist party chief, Zhang Qingli, telling officials they faced "a life and death battle" with "a wolf in monk's robes" and his followers.
Yesterday, the spiritual leader, who has denied inciting unrest, urged activists to end a "confrontational" march to Tibet from India, fearing a clash with Chinese troops at the border.
"He made it clear he cannot order them, but he appealed to them to stop," Tenzin Taklha, his personal secretary, said.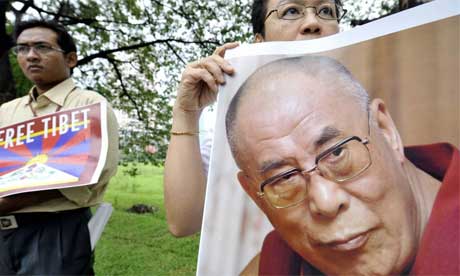 The Dalai Lama has said he is willing to meet Chinese leaders but will wait for concrete signs that the situation in Tibet is "becoming more positive".
Speaking at a press conference, Tibet's spiritual leader said he was "always ready to meet Chinese leaders, particularly Hu Jintao" – China's president, who in 1989 oversaw a bloody crackdown in Lhasa as the regional Communist party secretary.
Given the unrest in Tibet, the Dalai Lama said, he was unlikely to make an immediate trip to Beijing. "Going to Peking (Beijing) would be big news. Then many Tibetans would develop unrealistic expectations. I have to think about that very carefully."
The 73-year-old said he would wait until "after this crisis" for concrete changes in Tibet. "In the next few weeks and months I will see if there is something becoming more positive."
He was responding to a statement by the British prime minister, Gordon Brown, that the Chinese premier, Wen Jiabao, was willing to meet the Dalai Lama if the exiled leader agreed he did not support the total independence of Tibet and renounced violence.
The Dalai Lama said these two conditions had been met years ago. The two sides broke off talks last summer.
The Dalai Lama said he was concerned to hear that protests had spread outside Tibet. The state-run Xinhua news agency has reported unrest in Sichuan and Gansu provinces, and thousands of armed police have been sent there, as well as to neighbouring Qinghai province, where there have been sporadic demonstrations.
The Dalai Lama said he was increasingly concerned about the plight of remote villagers who could bear the brunt of Chinese reprisals. "I am really worried a lot of casualties may happen. There are no medical facilities. These are helpless unarmed innocent people who simply love Tibetan culture.