FREE TIBET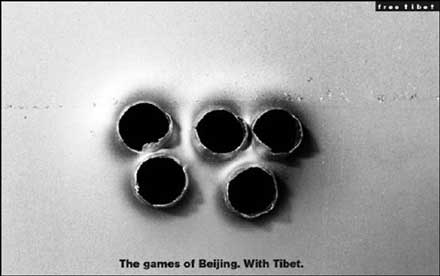 via monoscope

News

Pictures
from March 18th Chicago Protest. Over 500 people came our to support Tibet and to call action to the USA regarding China's brutal regime in Tibet.
Photos...


Chicago -

Demonstration @ 10:30am Water Tower then on to the Chinese Consulate @ 100 W Erie...bring umbrellas and Tibet flags! See you there.
For the most current news please go to http://www.phayul.com/
Please spread the word about the atrocities in Tibet...and pray for those inside Tibet that are now fighting for their lives against the Chinese government!
Lhasa: At least 100 killed in uprising Beijing set a "surrender deadline" signaling a crackdown after the worst unrest in Tibet for two decades
Tenzin Delek Rinpoche is a highly respected Buddhist leader from eastern Tibet. He was convicted on false charges and sentenced to life in 2005. Help Free Tenzin!
His Holiness the XIVth Dalai Lama has been voted the third most preferred individual that people would like to run the world, according to a poll conducted by the British Broadcasting Corporation.
Support a FREE TIBET and display a Tibet National Flag! more info...
Team Tibet Warm-Up Jacket. Support Team Tibet 2008! Boycott Beijing 2008. Order Now
New FREE TIBET rubber wristband in the spirit of LIVE STRONG. Be the first to have a FREE TIBET wristband!