Είναι η τελευταία λέξη της Μόδας στη Νέα Υόρκη ο "Μέγας Αλέξανδρος"
στην Νέα Υόρκη.
Είναι στη Μόδα και τα ρούχα του Αντι Γουόρχολ με τα καμουφλάζ θέματα από τον "Μυστικό Δείπνο" και τις "Στάμπες " του.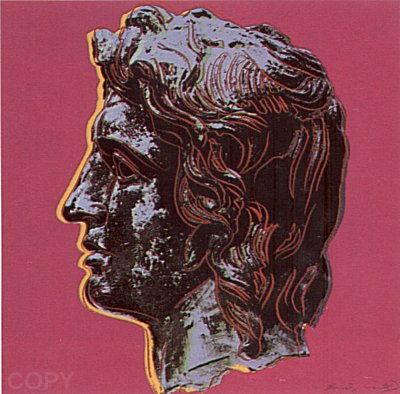 Andy Warhol
Alexander The Great
Screenprint on Lenox Museum Board.
1982
39.5" x 39.5"
Edition of 25, 5 AP, 1 PP, signed and numbered in pencil lower right. There are the following individual TP not in portfolios signed and numbered in pencil lower right: 65 TP, 40x40"; 15 TP, 39.5x39.5"; 8 TP numbered in Roman numerals, 40x32"; 5 TPAP, 40x40".
Published in cooperation with the Hellenic Heritage Foundation to coincide with "The Search for Alexander" exhibition at the Metropolitan Museum of Art, New York October 27, 1982-January 3, 1983.
Printer: Rupert Jasen Smith, New York
Publisher: Alexander Iolas, New


York

| | | | | | |
| --- | --- | --- | --- | --- | --- |
| | | | | | |

Description of Burton Andy Warhol Last Supper Hooded Jacket - Men's:
Burton teamed up with the Andy Warhol foundation to create the Burton Men's Andy Warhol Last Supper Hooded Jacket. With this snowboard jacket, everyone will be staring at your chest, and not just because you're ripped and a park-and-pipe God. The Last Supper Hooded Jacket features a high-definition art print that looks like nothing else on the hill. Of course, Burton didn't forget to give this winter jacket snowboarding functionality. The jacket's 10K-rated laminate fabric keeps snow and wind out, while lightweight Thermacore insulation provides the warmth for frigid February powder days. Burton even gave the Last Supper Hooded Jacket quilted satin lining, so it feels luxurious when you wear it over a t-shirt on the street. Two handwarmer pockets, a goggle pocket, and a pass pocket make sure you don't leave any necessities in the car.

Andy Warhol grave
St. John the Baptist Cemetery
Route 88 and Connor Road
Pop artist and avant-garde filmmaker Andy Warhol (1928-1987) was born Andrew Warhola in Pittsburgh; he grew up in the East End neighborhood of Oakland (3252 Dawson Street), attending Schenley High School. A devout Byzantine Catholic, he is buried in his family's plot in this church cemetery. At his grave site, mourners have been known to leave flowers in Campbell's soup cans, to honor the memory of one of his most famous artworks.
Claimed as a queer artist, Warhol was in fact enigmatic about his personal life and seems to have been primarily asexual. Graduated from Pittsburgh's Carnegie Institute of Technology (now Carnegie Mellon University) in 1949, Warhol moved to New York and achieved fame first as a commercial artist. His silkscreens of Campbell's soup cans and of Marilyn Monroe in the early 1960s launched his pop art career. Later, he directed such underground films as My Hustler (1965) and Chelsea Girls (1966). Others films, such as Trash, Flesh, and Women in Revolt, were made by director Paul Morrissey and produced by Warhol at his studio, a Manhattan loft called "The Factory," and gave prominence to such drag queens as Holly Woodlawn and Candy Darling.
In 1968, Warhol's life was almost cut short when Valerie Solanis, a violent lesbian who authored the "SCUM Manifesto" (Society for Cutting Up Men), shot him. Following his recovery, Warhol became more reclusive and abandoned directing, having already experienced significantly more than the "15 minutes of fame" he said everyone would one day enjoy. He died unexpectedly following a routine gall bladder operation, on Feb. 22, 1987, 20 years ago this week. The Andy Warhol Museum, 117 Sandusky Street, opened in Pittsburgh in 1994.