1925
Born on May 22 in Fribourg.
Mother and child move from Bulle to Basel in July 1925.


1931 - 1940
Attends schools in Basel.


1941 - 1944
Apprenticeship as a decorator.


1944
Attends courses at the School of Arts and Crafts in Basel.


From 1947
One of the followers of the Basel anarchist Heiner Koechlin.


October 1952
Moves to France with his wife Eva Aeppli.


May 1954
Opens his first exhibition at Galerie Arnaud in Paris.


1955
At the beginning of the year Tinguely moves into a studio in the Impasse Ronsin; his neighbours are sculptor Constantin Brancusi and other artists.
Shows his Relief Méta-mécanique sonore in an exhibition at Galerie Samlaren in Stockholm.


1955 - 1956
Meets Niki de Saint Phalle and Yves Klein.


1958
Exhibits Mes étoiles – Concert pour sept peintures at Galerie Iris Clert in July.
Shows the installation "Vitesse pure et stabilité monochrome" in the same gallery in November together with Yves Klein.


March 1959
Scatters copies of the manifesto "Für Statik" (For statics) from an airplane over Düsseldorf.


July 1959
Exhibition "Méta-Matics de Jean Tinguely" at Galerie Iris Clert in Paris.


November 1959
"Cyclo-Matic" Evening at the ICA (Institute of Contem- porary Arts) in London, a happening with racing cyclists and drawing machines.


March 1960
"Homage to New York", happening with a self-destructing machine sculpture in the garden of the Museum of Modern Art in New York.


October 1960
The group "Nouveaux Réalistes" is founded in Paris with Arman, Francis Dufrêne, Raymond Hains, Yves Klein, Pierre Restany, Jacques de Villeglé, Martial Raysse and Daniel Spoerri.


September 1961
"Étude pour une fin du monde No. 1", a happening with rockets and other fireworks at the Louisiana Museum, Humlebaek, Denmark.


March 1962
"Study for an End of the World No. 2", another sculpture group that self-destructs in the presence of an audience in the desert near Las Vegas, Nevada, USA.


Winter 1963 - 1964
Creation of the large sculpture "Heureka" for the Expo 64 in Lausanne.


Spring 1966
Creation of "Hon" in collaboration with Niki de Saint Phalle and Per Olof Ultvedt at the Moderna Museet in Stockholm.


1967
Presents two works at the World Fair 67 in Montreal; creates "Requiem pour une feuille morte" for the Swiss pavilion, and "Le Paradis fantastique" together with Niki de Saint Phalle for the French pavilion.


Christmas 1968
Takes up residence in Switzerland in an old inn he acquires in Neyruz, Canton of Fribourg.


1970
Construction begins in Milly-la-Forêt on "Le Cyclop", a giant walk-in sculpture created in collaboration with Bernhard Luginbühl, Larry Rivers, Niki de Saint Phalle, Daniel Spoerri and others. Work is carried out with the aid of Tinguely's assistants Josef Imhof and Rico Weber.


November 1970
"La Vittoria": in front of Milan Cathedral, Tinguely burns a giant golden phallus on the occasion of the festival celebrating the 10th anniversary of the "Nouveaux Réalistes".


1971 - 1973
Creation of the "Grosse Spirale" or "Doppel-Helix" in the courtyard of the Basel Institute for Immunology of F. Hoffmann-La Roche Ltd.


1973 - 1975
Tinguely constructs the monumental sculpture "Chaos No. 1" in the Civic Mall, Columbus, Indiana, USA.


November 1976
"Débriscollages" exhibition at Galerie Bischofberger in Zurich, in which visitors are encouraged to produce their own work of art.


May 1977
For the opening of the Centre Georges Pompidou in Paris, Jean Tinguely, Bernhard Luginbühl and Niki de Saint Phalle create the installation "Le Crocrodrome de Zig & Puce". Inside it, Daniel Spoerri sets up a "Musée sentimental".


June 1977
Dedication of the "Fasnachtsbrunnen" in Basel.


September 1978
"Méta-Harmonie I" is created for the Hammer exhibition in Basel.


May 1979
"Klamauk", a sound sculpture mounted on a tractor, and "Méta-Harmonie II" are shown for the first time in a more important show at the "Tinguely – Luginbühl" exhibition at the Städel, Frankfurt.


July 1981
Exhibition at the Abbey of Sénanque. Tinguely exhibits skull sculptures for the first time.


1982 - 1983
Retrospectives in Zurich (Kunsthaus), London (Tate Gallery), Brussels (Palais des Beaux-Arts) and Geneva (Musée d'Art et d'Histoire). The altarpiece "Cenodoxus" is one of the key works in the exhibitions in Zurich and Geneva.


March 1983
Dedication of the Fontaine Igor Strawinsky in Paris, created in collaboration with Niki de Saint Phalle.


February – April 1984
Creation of a sculpture called "Pit-Stop" in Rungis near Paris commissioned by Régie Renault, composed of elements from Formula 1 racing cars.


June 1984
Dedication of the "Fontaine Jo Siffert", a gift of Jean Tinguely to the city of Fribourg.
Tinguely creates "Meta-Harmonie III – Pandämonium" for the Seibu Museum in Japan.


1985
Creation of "Méta Harmonie IV – Fatamorgana" in an abandoned factory building of Von Roll Ltd. in Olten for the exhibition in the Kunsthalle of the Hypo-Kulturstiftung in Munich.


Autumn 1986
Tinguely creates his "Mengele-Totentanz," using charred beams, burnt agricultural machinery, household appliances and animal skulls from a farmhouse in Neyruz that burned to the ground.


1987
Creation of the huge, walk-in "Grosse Méta Maxi-Maxi Utopia" in a factory building of Von Roll Ltd. in Klus. This is shown in the retrospective in Venice (Palazzo Grassi). The exhibition continues to Turin (Promotrice delle Belle Arti), Paris (Musée national de l'art moderne in the Centre Georges Pompidou). In Paris, Tinguely exhibits for the first time "Dernière Collaboration avec Yves Klein" and the sculpture group "Les Philosophes".


January 1988
Purchase of the former bottle factory La Verrerie in the Canton of Fribourg to serve as a studio.


March 1988
Dedication of the Fontaine de Château-Chinon – commissioned by the President of France, François Mitterrand – created in collaboration with Niki de Saint Phalle.


1990
A Tinguely exhibition is held at the Tretyakov Gallery in Moscow. The expanded Moscow exhibition is shown in 1991 at the Musée d'Art et d'Histoire in Fribourg. Tinguely also shows at these exhibitions his "Rétable de l'abondance occidentale et du mercantilisme totalitaire".


1991
Creation of "La Cascade", a large hanging sculpture, in Charlotte, North Carolina, USA.
At the ART Basel exhibition, presentation of "Kulturgüter- zug", an installation by Jean Tinguely in collaboration with Eva Aeppli, Bernhard and Iwan Luginbühl, Jim Whiting, Milena Palakarkina, Daniel Spoerri and Ben Vautier.


June 1991
The large lamp sculpture "Luminator" is built for the inauguration in an empty exhibition hall.


Summer 1991
"Nachtschattengewächse", the last exhibition personally installed by Tinguely, is held at the Kunsthaus, Vienna.


1991
On August 30, 1991, Jean Tinguely dies at the Inselspital, Berne.

1955, Moves into Atelier

1955, Relief "Méta-mécanique sonore II"

1959, Manifesto "Für Statik"

1959, "Cyclo-Matic" evening in the ICA

1960, "Homage to New York"

1962, "Study for an End of the World No. 2"

1963 - 64, Sculpture "Heureka"

1967, Works for the World Fair

1968, Residence in Switzerland

1970, Starts on "Le Cyclop"

1979, "Klamauk"

1984, "Pit-Stop"

1985,In the Von Roll plant

1970, "Méta Harmonie IV - Fatamorgana"

1987, "Grosse Méta Maxi-Maxi Utopia"

1988, "Wittgenstein, Philosoph"

1990, Tinguely exhibition at the Tretjakov Galery

The Swiss sculptor Jean Tinguely was born in Fribourg on 22 May 1925. After going to school in Basle, he began an apprenticeship as a shop-window decorator in a department store in 1940. He then studied at the Kunstgewerbeschule in Basle from 1941 to 1945, a period during which he discovered the art of Schwitters and Klee as well as becoming an enthusiastic fan of the Bauhaus. Tinguely began experimenting with movement in space in 1944 with his machine-like sculptures by equipping them with electric motors and making them spin around at high speed. He moved to Paris in 1951, where he participated in Robert Rauschenberg's international happenings and associated with the casual artist group 'Nouveaux Réalistes', exhibiting works in their exhibitions. He had his first one-man exhibition three years later, in 1954, at the Galerie Arnaux. Tinguely's fantasy machines with pre-programmed elements of chance, the so-called 'Métamatics', are quite spectacular. They are machines producing drawings, or self-destructive machines. His welded iron constructions represent ironic attacks on the purpose of the era of technology. Tinguely exhibited works at the Biennale in Paris in 1959 and associated himself with the group ZERO. The artist's international fame came around the mid-1960s, if not earlier. He showed works at the documenta 3, 4 and 6 in Kassel between 1964 and 1977. Tinguely married the artist Niki de Saint-Phalle, a close friend of his, in 1961. Together, they installed the climbable female sculpture 'Hon' at the Moderna Museet, Stockholm in 1966. In the same year he participated in the exhibition 'The Machine' at the Museum of Modern Art, New York. One year later he was present at the World Exhibition in Montreal. His 'Machines' were once again shown at the Museum of Modern Art, New York, in 1968 in the exhibition 'Dada, Surrealism and their Heritage'. The Museum of Contemporary Art in Chicago organised a retrospective exhibition in the same year and there was a large touring retrospective exhibition in 1972/73 which started at the Kunsthalle in Basle. Tinguely never ceased working, even in his old age. In 1980/81 he created the fountain 'La Fontaine Stravinsky' in Paris together with Niki de Saint Phalle. During the 1980s Tinguely realised several major projects, et al. exhibitions, sculpture groups and fountains. His works conquered the world. Jean Tinguely died in Bern on 20 August 1991.
Chaos I by Jean Tinguely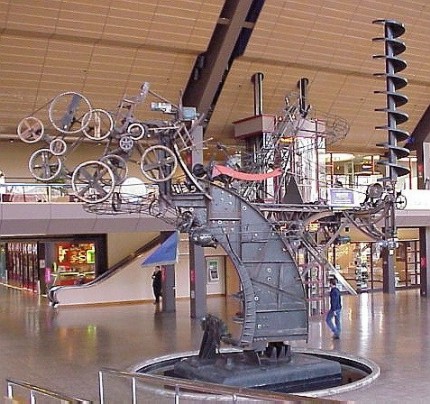 Weighing almost seven tons and standing 30 feet high, Chaos I is the centerpiece of The Commons, a downtown civic mall that is attached to a small shopping complex. At first glance it appears that the "in motion" sculpture is a whirring, clanging, clanking hunk of junk! A closer look, however, reveals the sense of humor and imagination of its creator, Swiss artist, Jean Tinguely.
Chaos I is an artistic and engineering wonder, and kids and adults alike enjoy watching its different movements. Giant lollipop shapes twirl, gears move, and big, metal balls slowly climb up a shaft, drop down and roll through an airy, wire tunnel. There's so much going on at one time, that it's impossible to catch it all. A moat, of sorts, surrounds the sculpture, and people enjoy tossing pennies into the water and making wishes. Now and then, the money is collected and given to charity.
The Commons features a stage and a large, open area that is used for a variety of community activities. The architect, Cesar Pelli, recommended that a major work of art be placed in the space, and Mr. Tinguely was chosen to create a sculpture. Mr. and Mrs. J. Irwin Miller and his sister, Mrs. Robert Tangeman, gave the public area and sculpture to the city in 1974.
The artist liked to create sculptures from salvaged metal, and most of the materials for Chaos I were purchased at the Kroot Corporation in Columbus. The company, which has been in business for more than 100 years, is a scrap metal recycling firm. Much of Chaos I was created in the old powerhouse building, now the Senior Citizens Center. When it was time to put it together, the sculpture parts were moved to The Commons.
Several local craftsmen worked under Mr. Tinguely's direction to build the sculpture. One day someone who was assembling pieces at the top removed a boot in order to rest his foot. He placed the boot on the sculpture, and when Mr. Tinguely saw it there, he asked him to leave it as part of the art! A year or so later the boot was removed, but it was replaced when the public noticed it missing and demanded its return. The artist, who had a great sense of humor, would be pleased.
Jean Tinguely's work was introduced in America in 1960 at the Museum of Modern Art in New York City. "Homage to New York" was a kinetic or "in motion" sculpture that was supposed to destroy itself. Something went wrong, however, and a few New York City firemen helped finish it off!
In speaking about his work, the artist said, "Life is movement. Everything transforms itself, everything modifies itself ceaselessly, and to try to stop it . . . seems to me a mockery of the intensity of life." Mr. Tinguely was very pleased with Chaos I, and it was one of his favorite sculptures. It is well loved by Columbus children, too.
Learn more about our buildings and their architects at the Columbus Visitors Center, and visit the Jean Tinguely Museum to see more of the famous sculptor's work.
Please Note: After a big New Year's Eve party, The Commons was closed to the public on January 1, 2008. A new building, which will include the Chaos I sculpture, will take its place in two or three years.
Click on any of the small images below for a larger version.