Buy. Download. Create. Get Adobe Photoshop now at the Adobe Store.


Find Photoshop CS4 tutorials and videos on our Photoshop CS4 Tutorials Page.


Try before you buy. Download any Adobe product for a free 30 day trial.



Photoshop Fine Art Effects Cookbook
"Andy Warhol Pop Art Silkscreen Effect"
(Pages 160 and 161 from the Painters section of Photoshop Fine Art Effects Cookbook - courtesy of O'Reilly Media.)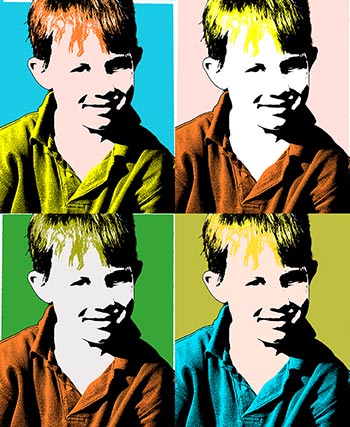 Almost synonymous with Pop Art, Andy Warhol was a painter, photographer, filmmaker, and publisher. In the mid-20th century he produced iconic silkscreen paintings of subjects as mundane as soup cans and as glamorous as Elvis Presley and Marilyn Monroe. These remain hugely popular, and have sparked countless imitations. Creating your own Pop Art-inspired images with Photoshop is easy, and great fun, too.

The silkscreen technique forces paint onto canvas through a high-contrast negative stencil attached to the fabric. The resulting image features strong blacks from the photograph, which can be simulated using Photoshop's Threshold adjustment. In Warhol's hands, crude blocks of garish, striking color were added to selected areas, and images were often duplicated with alternative color schemes.

Any portrait can be used for a silkscreen-style image, but those with strong edges work well. Look, too, for an image in which the subject is staring directly at the lens, preferably with a slightly distant expression.

STEP 1
Open your portrait image, hold down the Alt/Opt key, drag the original image layer to the "Create a new layer" icon, call the new layer "Cut Away," and click OK. Use selection tools such as the Magic Wand and Color Range to roughly select and delete the background pixels from the new layer.

Silkscreen images are very high-contrast, and later steps will remove much fine detail, so you don't need to be very precise. It can make it easier to work if you add a new, color-filled layer directly below the working layer—making it a garish color can help you see the final result.

STEP 2
To make the high-contrast image, ensure the Cut Away layer is active and select Image > Adjustment > Threshold. Move the slider so that the image contains only enough shadow to show the picture's essential shapes.

STEP 3
Roughly select each image area that you want to paint with a single color, and use Alt/Opt + Ctrl/Cmd + J to copy the selection into its own layer. Name each new layer, set the blending mode to Multiply, and click OK.

STEP 4
Activate each item's layer in the Layers palette in turn. For each one, Ctrl/Cmd + click the thumbnail so that only its non-transparent pixels are selected, and choose Edit > Fill. Even if the Fill dialog's Use drop-down shows Color, select it again. This triggers the Color Picker. Select a strong color and click OK twice.

STEP 5
In the Layer Style dialog box, change the Color Overlay's blending mode to Color. Pick a strong color and click OK.

STEP 6
Once you have repeated steps 4 and 5 for each colored item, you have a completed silkscreen-style image. Save the file and make copies in which you use permutations of the same colors. Each colored area is in its own layer, so it is easy to select and recolor it with a Hue/Saturation adjustment layer. Finally, combine all the versions in one large image.

Combining multiple versions of the same image lends the final version a distinctive 1960s Pop Art feel.

Copyright © 2005 The llex Press Limited - All rights reserved. No part of this book may be reproduced in any form, by photostat, microfilm, xerography, or any other means, or incorporated into any information retrieval system, either electronic or mechanical, without the written permission of the copyright owner.


See more Sample Recipes from the Photoshop Cookbook Series.



Photoshop CS4 & Photoshop CS4 Extended - Best Deals From Adobe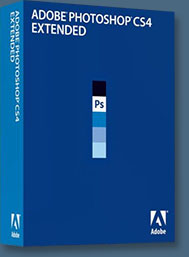 Photoshop CS4 and Photoshop CS4 Extended feature a newly refined, tab-based interface in a single, integrated window, with self-adjusting panels arranged in docked groups. Automatically keeping tools well organized and away from your work area means you get greater efficiency, less clutter, and better results, faster than before.

Delivering all the features of Adobe Photoshop CS4 software, including the new Adjustments and Masks panels, Adobe Photoshop CS4 Extended also provides breakthrough 3D editing and compositing power to paint directly on 3D models, create 3D animations, convert 2D images to 3D objects, and more; richer motion graphics editing; and more powerful and flexible image analysis and tracking. Learn more on our Photoshop CS4 Tutorials Page. To download the free trial, see details on our Photoshop CS4 Free Trial Download Page.

Find upgrade options and package deals at the Adobe USA Store. Teachers and students get special pricing at the Adobe Education Store. You can also buy in your country currency and language at the following Adobe International Stores:
Adobe United Kingdom | Adobe Germany | Adobe France | Adobe Eastern Europe



Adobe Creative Suite 4 Design Premium - Complete CS4 Bundle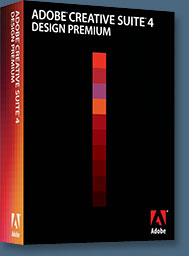 Adobe Creative Suite 4 Design Premium software is the designer's dream toolkit for print, web, and mobile publishing. Creativity is rarely confined to one medium, so put your vector illustrations in motion, moving fluidly between Adobe Illustrator CS4 and Adobe Flash CS4 Professional. And use Adobe Photoshop CS4 Extended to design and slice a web page for publishing with Adobe Dreamweaver CS4.

Adobe Creative Suite 4 Design Premium combines essential tools for producing everything from professional page layouts to rich interactive experiences in a unified, intuitive environment. Also includes Adobe Acrobat 9 Pro, Adobe InDesign CS4, plus Adobe Fireworks CS4.

Buy now or download the free trial at the Adobe USA Store, or buy in your country currency and language at the following Adobe International Stores:
Adobe United Kingdom | Adobe Germany | Adobe France | Adobe Eastern Europe



Special Offer - Fluid Mask - Photoshop Masking Plugin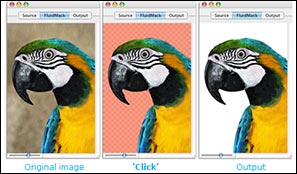 Fluid Mask is based on breakthrough segmentation technology inspired by the way the eye, optic nerve and brain perform visual processing. When an image is loaded, Fluid Mask's segmentation engine analyses the distribution of colors, finding the natural groups within the image. Together with information calculated about edges, gradients and textures, a model is constructed which divides the images into objects.

Vertus Software is offering Fluid Mask at the special 'friends and partner' discounted rate. This is an exclusive offer to visitors of PhotoshopSupport.com. To qualify, visit the Fluid Mask Discount Price page. Find out more about Fluid Mask on our special Fluid Mask Page.



SiteGrinder Photoshop Plugin - Create Websites Instantly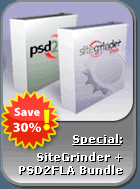 There often seems to be a strict division of labor within the world of web design and development. Creative professionals tend to stick to the Photoshop domain, while those well-versed in scripting are left to the task of implementing their work. Indeed, the two realms are quite different from each other, to which any of us even vaguely familiar with either can easily attest.

Essentially, Photoshop is a no-holds-barred design studio, offering the artist a seemingly endless array of creative options. On the other hand, HTML, CSS, Java and the like follow strict rules of engagement, requiring the developer to take any number of esoteric concerns into consideration in order to ensure that designs are properly displayed on the web.

Turn Photoshop Into A Complete Web Design Tool
SiteGrinder seeks to bridge this gap between design and development. Basically, this program turns Photoshop into an easy-to-use and fully functional web design tool. With SiteGrinder, designers will now have the freedom to totally let their creativity loose and then, without skipping a beat, transfer their designs to the web. Bringing esthetic concerns together with more practical considerations, this program is an amazingly powerful tool that would make a fantastic addition to any web designer's bag of tricks.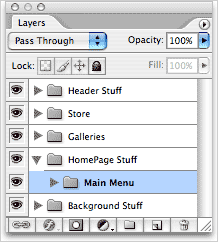 Generate Your Web Pages Directly From Photoshop
By generating web pages directly from Photoshop, you'll be able to spend much more time on the creative end of the spectrum, since you'll know right off the bat how well particular designs will translate to the web. No more going back to the Photoshop drawing board after getting a phone call from your development team, telling you that what you had envisioned doesn't have a chance of being displayed on the web. You can immediately visually and interactively test your designs, which permits you to then make changes to either esthetics or functions while it's still relatively early on in the design process.

Pricing and Availability
Mac OS X and Windows versions of the SiteGrinder unlockable demo are available now via download. SiteGrinder can be ordered from Media Lab's online store.



Photoshop CS3 Book - CS3 Essential Skills - By Mark Galer And Philip Andrews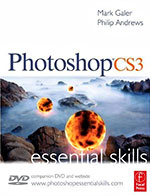 Brimming with beautiful pictures, Photoshop CS3 Essential Skills guides you through a project-based, progressive curriculum so that you can build all the essential skills to enhance photographs creatively and professionally with Photoshop CS3. If you are an aspiring professional, enthusiastic amateur photographer, or a student learning photography, digital imaging, art and design, or design graphics, you'll be amazed at the stunning results you can achieve. A DVD is included free.
The Essential Skills Photography Series from Focal Press uniquely offers a structured learning experience for photographers of all ages, with both the underlying theory and loads of invaluable 'how to' and real-life practice projects - all from the most talented photography practitioners/educators in the world.

Read 2 free sample chapters:


Adjusting Exposure in Adobe Camera Raw CS3


Photoshop CS3 Tutorial High Dynamic Range

Special book offer - save 24%


Photoshop CS3: Essential Skills (Amazon.com - $28.08 - save 24%)



Photoshop CS2 Book - Photoshop CS2: Essential Skills - By Mark Galer And Philip Andrews


An inspirational and user-friendly guide to creative image editing, Photoshop CS2: Essential Skills provides direction for photographers and designers alike who have ventured into the realm of the 'digital darkroom.' The book offers a progressive curriculum to guide you through Photoshop with a series of clear, step-by-step projects designed to place knowledge into a practical context.

Whether you simply want to retouch an image, create a glamour makeover or create a highly sophisticated montage - this book will give you the essential skills to complete the work to a professional standard.

Read 2 free sample chapters:


How To Sharpen An Image In Photoshop — Advanced Sharpening Techniques


Working With Shadows In Photoshop - Advanced Shadow Techniques

Special book offer - save 37%


Photoshop CS2: Essential Skills (Amazon.com - $20.76 - save 37%)



Exclusive 20% Discount On Select Total Training Products & Bundles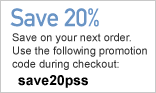 To redeem our exclusive discount coupon, use promotion code save20pss in your shopping cart. You could save hundreds of dollars. Use this special link to see the full offer.

Total Training for Adobe Photoshop
Learn Adobe Photoshop with 21 hours of interactive Adobe Photoshop tutorials. This is training for real-world situations and includes additional tips and techniques used by the pros.

View Sample Photoshop, Dreamweaver and Flash Pro Video Tutorials


Free Adobe Photoshop CS3 video tutorials


Free Adobe Photoshop CS2 video tutorials


Free Adobe Dreamweaver video tutorials


Free Adobe Flash Pro video tutorials



Photoshop Fine Art Effects Cookbook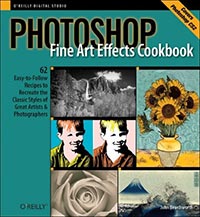 How would you like to create your own impressionist landscape, a van Gogh still life, or a surrealist Salvador Dali dream world? Or perhaps a classic Ansel Adams photograph of Yosemite or an authentic-looking 19th century Daguerrotype? You can do all of that and more with Photoshop Fine Art Effects Cookbook.

The Photoshop Fine Art Effects Cookbook book tells you all you need to know to turn your original digital photographs into images that mimic the styles of great photographers and painters. From advice on how to develop an eye for appropriate subject matter to 62 detailed recipes that demonstrate exactly how to create an "original" van Gogh, Vermeer, Edward Weston, or Andy Warhol (among others), this book is an authentic guide to understanding and simulating the work of great artists-and a whole lot of fun.
Analyzing the styles of great artists: format, composition, angles of view, color palettes, and image textures
Shooting for digital manipulation, working non-destructively, making your own brushes and patterns
Creating Daguerrotypes, cyanotypes, stop-motion photographs, cross-processed images, Polaroid transfers, and infrared effects
Mimicking photographic styles from the pre-Raphaelites and the Naturalists to Jerry Uelsmann and David Hockney
Exploring painting and printmaking techniques from Rembrandt to Warhol: Dutch portraits, 18th century landscape painting, Japanese woodblocks, Impressionism, Pointillism,
Fauvism, Art Nouveau, Cubism, Futurism, Surrealism, and Pop Art